---

Pleasure in childbirth
Pleasure in childbirth: The experience of childbirth can be extremely empowering and enjoyable. Although a small percentage of women experience a delivery with pleasure, we live in an era in which women increasingly become protagonists in their births and deliver their children actively.
Some women get pleasure in childbirth, others do not. But more important than the pursuit of pleasure in childbirth is that we can, as women, live birth in the most humane and conscious way possible.
My first childbirth
At my first birth I was 23 years old. I did not know what a humanized birth or obstetric violence was. I spent more time thinking about the decor of the baby's room than how it would be born. I was terrified of thinking that they could cut me, get a cesarean section, and get the baby out of me, but the idea of ​​the baby going through my vagina was not the most charming either.
I decided, at that time, to leave it to chance, to let it flow, although I had agreed with my doctor that the delivery would be normal, if surgery was not strictly necessary.
In my innocence and ignorance, I did not know that doctors are in a hurry, they need to attend to you in that schedule slot and in a hurry, because the more you give birth, the more money you make.
In short, a scoundrel doctor tried every way to induce me a cesarean, saying that the amniotic fluid was low, my basin was small and the baby would not pass, the heartbeat was falling … every 5 minutes I had to take an exam of touch that hurt me to the soul.
Can you imagine the torture? But something in my heart told me she was lying. She finally ended up saying that the baby was slow to be born and that at 6:00 would have a commitment. It was our cue to ask her to leave for her appointment and that we would deliver the birth with the hospital attendant.

You have to be strong.
That's where my luck started to change. A gentle doctor said to my ear, "Rest assured, no one will give you a C-section if it is not really necessary." Tears of joy began to trickle down my face. I felt strong again. I decided to accept anesthesia because they had already suffered many hours of suffering there and I needed to relax.
What a relief! What a wonderful feeling to just enjoy that moment.
In about 20 minutes the head crowned. A passing nurse saw and shouted "it's going to be born!" Several people entered the room, the shift had already turned and the gentle doctor was gone.
In his place a doctor, who I soon said, "I do not want them to cut me (referring to episiotomy)."
She said, "There's no way, I have to cut it." At that moment I gave up fighting, I just gave in.
and I let them do what was good in my body.
A nurse began to tighten my belly and I looked faint in bed, voiceless. But when the doctor asked me to push, I filled my lungs and I did and by the time my daughter came into the world I had the feeling that an atomic bomb had fallen in that room and made time to stop.
It all began to move in slow motion. As soon as they brought her to me, she looked at me and smiled. I looked her in the eye and had the feeling that she was my soul mate (read more about soul mates in this post.).

Memory of pain
Today I perceive that moment with an orgasm. It was very similar to the experiences of full body orgasms that I had with tantric massage. I felt pleasure in childbirth even though it was not a humanized birth. It was the best I could be at that moment, though I had left memories of pain in my body.
In 2009 there was not much talk about humanized delivery, much less talk about childbirth with pleasure!
After childbirth, when I went back to having sex, I felt a little pain that bothered me. I knew it
which had something to do with the episiotomy, which had been healed for more than a year, but created a trauma
in that region.
Four years after childbirth I received my first tantric massage. It was a massage with maneuvers done in my vagina. It hurt. I did not feel any pleasure. I felt pain. But in my heart I felt that
it could be a way to cure that pain.
I decided to do some more massages with Julius, my husband, then my boyfriend. In one of the sessions I started crying. He massaged over the frail area for a few minutes and I was releasing that pain and after that I never felt pain again during a relationship.

Another chance
During my second pregnancy I received several massages. I graduated as Doula and was sure that I would have
a delivery with pleasure. I thought my husband could be my Doula. After all, I trusted him more than
nobody and my biggest fear was that they did not respect my wishes and I could not be protagonist
of my own birth.
This lack of confidence in a woman who could be my Doula and that I could and that I could have the intimacy of having pleasure, orgasms and receiving tantric massage during childbirth, made me not have any Doula and this turned out to be a mistake because my husband was overwhelmed with other issues such as filling the bathtub with water hot, call the doctor … I got my natural delivery without an episiotomy, without anesthesia, but I still had to get orders from the doctor to do the strength. I could not orgasm.
In order to have an orgasm we have to be totally delivered, feeling safe. It is practically impossible
someone having an orgasm with another person saying, "Go, enjoy! Now, you have to enjoy! "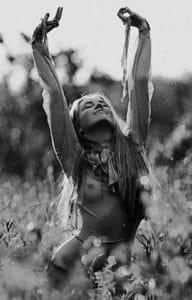 Now I get it
I understood that in childbirth and in bed, we have to be quiet, secure, feeling confident, without fear of pain. Tantric massage, during labor, associated with breathing, meditation techniques, can provide that confidence, that pleasure and provide a calmer, less painful and even orgasmic delivery.
Today, I still have the possibility of having one more chance of a delivery with pleasure, but I do not know if I want more children.
So I have the opportunity to help other women in this process, to have a delivery with more pleasure.
From the beginning of the gestation the woman can already be preparing, massaging the lips to avoid lacerations,
doing pompoarismo techniques to avoid urinary incontinence, practicing some techniques of Yoga and
meditation for already connecting with the birth. The companion can learn how to massage her …
It is very important the connection of the couple at that time. The doula will give support, will help in practical things that need to be resolved so that the couple can be at peace to experience the birth. It can indicate the ideal time for the practices, remember the techniques learned during pregnancy for them to be applied.
How to increase your chances of having a pain-free birth and even pleasure
Childbirth without pain is not one that only when the baby goes through the vaginal canal and does not hurt. The pain that most women report in childbirth, you may realize, is associated with obstetric violence. A woman can take anesthesia and still have traumas, remember the experience as something traumatic, despite the blessing that accompanies it, the baby.
To avoid pain and suffering at that time, a woman must first seek information. Worthy information, based on WHO data. Secondly, the woman should seek to know her own body. Know your anatomy, your physiology, have intimacy with your own vagina.
Thirdly, a woman must totally trust her partner or the person who will be present with her in gestation and childbirth, the one who will give you strength. Know well the place to decide to give birth, become familiar, feel comfortable in the environment and do everything possible to ensure that your wishes will be respected (one way to do this is to organize a childbirth plan).
Once you have guaranteed the basics for your delivery to be done with respect, the pregnant woman will need to look at herself, face her fears, and understand childbirth as a natural process that need not hurt. It's difficult, because we already have the paradigm of childbirth with pain, but try to imagine how the first time you had sex. It hurts, but with experience we transform this natural act into pleasure. Applying some techniques, we can transform our delivery.
How to know more
At the moment, my face-to-face meetings are taking place in Leiria, Portugal, but if you want to know more about the couple's connection work, more about massages and states of consciousness, we and Julio, my husband, offer free materials like Free tantra workshop, and some ebooks that you can receive by email by subscribing here. You can also get in touch with WhatsApp or leave your comment below.
Comentários
---
Posts Relacionados
---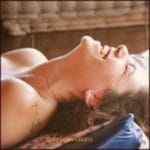 Tantric massage: what no one has told you.
Tantric massage Do you want to know what a tantric massage is? Do you want to know all the benefits and how to perform a tantric massage on your partner today?  Do you want to learn to practice incredible tantric techniques with free video lessons? So follow the thread, that in this article you will […]
Comentários
---
Spiritual Orgasm
Spiritual Orgasm: Is it possible to live spirituality through orgasmic practices? The Mystery of "Expanded Orgasm" An expanded orgasm is a more intense and more extensive orgasm than is commonly described as a common orgasm. Because it includes a spectrum of sensations that include full body orgasms such as those described by Wilhelm Reich. Orgasms […]
Comentários
---
Spiritual Slavery
What is spiritual slavery? Spiritual Slavery: Have you ever felt a sense of being chained to a "spiritual" environment? Have you ever felt guilty simply for being yourself? The feeling that you have no more ideas of your own and that everything you live must pass through the sieve of someone's approval? Have you ever […]
Comentários
---