---

Meditative sex:
Contrary to what many people imagine. Meditation has nothing to do with lack of intensity, comfort zone, inactivity or low energy. Meditation has to do with being present. To live the present moment with totality, without deviations of the intellect, of the mind. For the meditative state is the state in which the being is in full communion with the environment around him, in full harmony, connection and presence. It is above all a state of alert, of being awake. Moreover, it is a natural state of pure presence, without judgments of the mind that chatter, which often speaks without stopping.

About sexuality
It is notorious in the therapeutic environment that studies human sexuality, that healthy sex is the sex that happens in an environment of spontaneity, of emotional delivery, of letting it flow, of naturalness and detachment. Because real sex happens without the interference of the mind, which judges categorizes, blames, classifies, worries. Real orgasms happen when you're delivered, vulnerable. When there is permission to feel.
Therefore, a good sex education, in my understanding, should go through a sensory reeducation, that brings us presence to the physical body. We have all been born with this knowledge. We are born open to sensory perception. Most of us were a curious child about our own body, playful and free to try and get to know each other. But over time things have changed. We will, in time, enter the box, getting too framed and distancing ourselves from our essence. All this in search of framing and social acceptance.
And this is further intensified by the excess of visual stimulus to which we are subjected in the information age. The body and bodily senses take second place in this world of words and intellect. Therefore, this leads us to an environment of disconnection with our own body and above all with our own pleasure.

It is possible to redeem

But it is possible to rescue this knowledge, which has been lost over the years. We must feel like when we were children, innocents and exploiters. Meditative sex is nothing more than a return to our spontaneity. It is a way of relating without pretension of performance, without worries or fears. Without interference from the chattering mind.
It is presence, delivery and connection. He is free, cheerful, attentive, fluid, sensitive and natural. Just as life should be.
There are millenarian techniques of meditation and even tantric massage that help us return to our intuitive communication, to the use and development of the bodily senses. Practices involving connection, tuning and presence. They awaken new ways of developing intimacy and exploring pleasure.
If you are interested, get to know meditative practices for couples free of charge through an ebook with practical exercises for couples.
Comentários
---
Posts Relacionados
---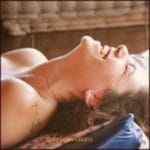 Tantric massage: what no one has told you.
Tantric massage Do you want to know what a tantric massage is? Do you want to know all the benefits and how to perform a tantric massage on your partner today?  Do you want to learn to practice incredible tantric techniques with free video lessons? So follow the thread, that in this article you will […]
Comentários
---
Have you ever had sex thinking about the shopping list of the week?
According to ancient eastern cultures, sex is the moment when you can draw the most light into the earth. We are not talking here about sex for procreation, which is also very important, but we are talking about sex for pleasure, for the union of the couple. Now, to receive all this light through sex, […]
Comentários
---
Understanding the Red Tent
Red Tent is the tent of the period of menstruation. Tents of the Old Testament, in which the tribes lived. Period in which women gather and in this sacred place. They meet to share their feminine secrets and reaffirm that power. For about four days a month, days of his blood, the sacred gathering takes […]
Comentários
---